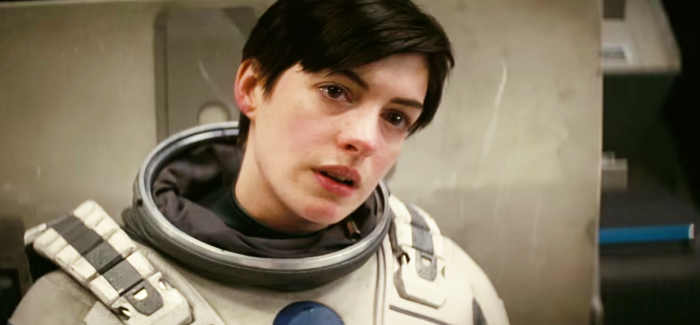 Last night I finally got around to watching Interstellar. The wife and kids were off at her folks' and my friends were busy, so I decided to catch up on some movies I had been meaning to see. I ordered some Thai, sat down, and proceeded to watch one of the better movies I've seen in a long time. I had been meaning to do some house hunting stuff on my laptop while I watched, but I was so into the movie that that was all forgotten. I want to watch Interstellar again, which is my personal high-water mark for a movie's quality. Then I posted on Facebook that I liked it, and got back the comment I had been dreading: in short, "Ugh, Anne Hathaway's speech."
If you're not familiar, around halfway through the movie it's revealed that Hathaway's character, Amelia Brand, may be pushing to explore one particular destination over another because her onetime lover was sent to that destination. She gives a speech about love, about how it is a motive force, and then winds up speculating that maybe love exists beyond biology and has an extra-dimensional character to it. A lot of people got worked up about this, because they felt it was too much "new age woo" in their science fiction.
In fact, all it really was, was a bit of new age woo in a sad, lonely, and desperate person on the sharp edge of a potentially futile mission to save humanity. It was a revelation of her character. The story itself never really validated her speculation.
This is one of those neat things you can do with storytelling. Let's say I have a character who says, "Peanut butter is God" and another character who says, "Might be, all I know is, it tastes good." If the story doesn't then have the characters receiving the will of God by way of peanut butter, then the author is not really trying to make a point about the divinity of peanut butter. The story is not about the divinity of peanut butter. The story is just showing that under some circumstances, someone might feel that passionately about it. If either of them decide they should go to the store and get more peanut butter, driving forward the action or the plot, that's still not any kind of statement on the divinity of peanut butter.
Interstellar talks a lot about love and family and what drives people, especially in desperate circumstances. It does not validate the idea that love is cosmologically significant, just that it's significant to the actions of people. Which, amazingly, it is! Like fear, hate, greed, anger, etc. The only thing Interstellar says, definitively, about the nature of the cosmos is that a) it still has secrets we have not uncovered and b) we need to leave Earth if we want to uncover them.