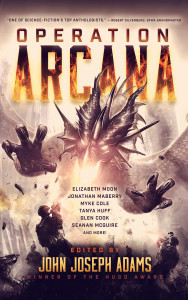 In other "Dave's Creative Pursuits" news, the story I wrote with my friend Tobias Buckell, "Rules of Enchantment," is out today. The story is appearing in the John Joseph Adams anthology, Operation Arcana, published by Baen. You can check out your buying options here.
As happens when Tobias and I sit down to write a story, we had a hell of a lot of fun, and once again we leveraged my military experience pretty heavily. (Not that I ever did anything quite like what happens in the story, natch.) This makes the fourth story I've written with him, and the second that JJA has bought from us.
At some point, I think there will be a free online version somewhere, but I haven't heard exactly where that's going to be. (The last time it was at io9.com, but I don't know if that's how this is going again.) So in the meantime, go on, buy it, enjoy it, and tell all your friends!