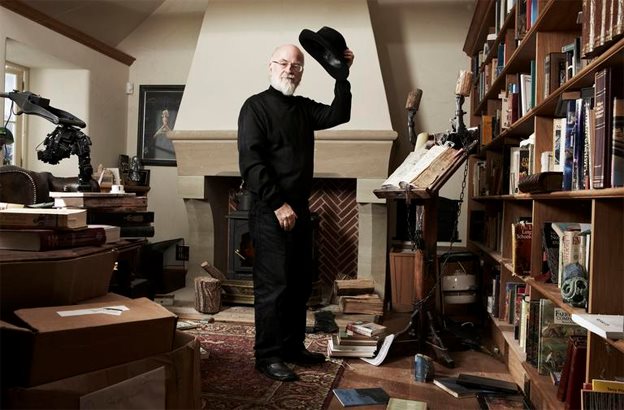 Well, fuck.
I first encountered the Discworld novels thanks to my sister, who had bought a couple of the Corgi paperbacks (somehow) when she was in high school, I think. I borrowed a couple of them and read them during a summer in college, I think before my senior year. I wasn't, strangely, immediately hooked, but that did come along. I still haven't read all of them, but that's mostly due to time and my own personal laziness. Now, I'm glad I still have some work to discover, and cherish, since it's officially become finite.
I met Terry once, on an escalator in Chicago at the 2000 WorldCon. My wife (then just my girlfriend) and I were headed to some panel or another, and it seemed he was headed to the same place, just behind us. I turned around and exchanged a few words with him–banal stuff like, "Are you enjoying the con?"–while my wife tried to keep it together and not fangirl all over the place. I'm sad I wasn't able to spend more time talking to him, let it move beyond the banal. But that's life sometimes.
Good bye, Sir, we'll miss you.